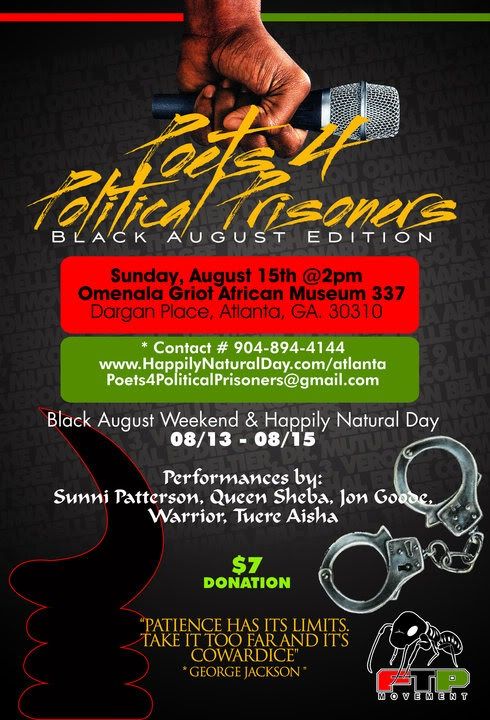 "This is an event that not only highlights the beauty and creativity of our people, but also emphasizes the importance and benefits of community organizing. Poets 4 Political Prisoners is a tool used to educate through the use of poetry and hip-hop, highlighting freedom fighters and activists. Poets 4 Political Prisoners serves as a benefit to support the creation of materials such as, CD's and newsletters used for the legal expenses and commissary of many victims of injustice."
(Poets 4 Political Prisoners)


If you're anywhere near Atlanta, Georgia this weekend, particularly tomorrow night, please make sure you go see revolutionary AIM Street Poet and Activist Warrior Bonds at Poets 4 Political Prisoners as part of Black August Weekend and Happily Natural Day. The event will provide radical conscious Poetry and Hip-Hop particularly on the subject of civil rights and it will celebrate people of color. This event has been organized by the progressive FTP Movement who we encourage you to support.
Please support Warrior by buying in incredible book Gunz, Poems & Rosez which is a collection of his rebellectual responses to his experiences in contemporary Amerikkka. He is also an emcee who has incredibly successfully transformed his poetry into Hip-Hip with his album with the same name Gunz, Poems & Rosez. Preview a few of his tracks below to inhale the vapours of change.
Peace In!
~AK47~