4WardEver UK Campaign:
Against The Death Penalty and Injustices Within Police, Penal and Mental Health Custody
What is 4WardEver UK Campaign?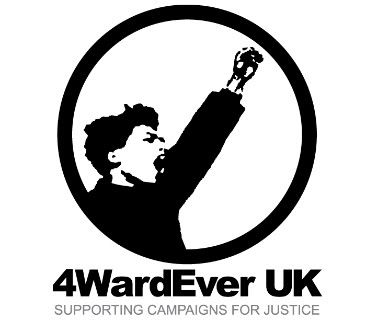 4WardEver UK was launched on 1st June 2006 by Tippa Naphtali the cousin of Mikey Powell, who died in the custody of West Midlands police, Birmingham, UK in September 2003.

Our purpose is to provide a one-stop-resource for profiles, news, event details, useful information, appeals, and more in relation to deaths in custody and other injustices in the UK and internationally.

The History....

The Mikey Powell Campaign for Justice website had become a widely used reference and information resource for many families, their friends, supporters and campaign groups. A separate entity was needed to cater for this. Growing from their experiences and struggles following Mikey's death in September 2003, his family wanted to do something to give exposure to his story. In a very short time they met with other affected families who, like them, had no voice on the worldwide web; and what began as a basic website focused on Mikey's case gradually developed into something much more comprehensive.

The Now....

The 4WardEver UK website was developed and launched in 2005 by Mikey's cousin, Tippa Naphtali. It has grown considerably and now has more than 1,800+ visitors a day from around the world. We support work for police, penal and mental health reforms in the UK and internationally. This is done through our website, other online resources, the organisation of and participation in events for justice, and direct support of families through our various services and resources.

4WardEver UK is dedicated to the memory of Mikey Powell, and continues to work with Mikey's and other families and campaign groups across the country and abroad in giving exposure to issues and causes. Funds are raised to support our work through advertising, donations from families and friends, some of 4WardEver UK's services, Tippa's personal investments, and through part of the proceeds from a partner agency, First Stop Web Design.

The Future....

4WardEver UK maintains this website and other services to provide profiles, news, event details, resources and useful information, appeals, and photo galleries in relation to deaths in custody and other injustices. We want to ensure that our site can be a useful resource to a range of individuals, groups and organisations that are seeking to influence reform and provide assistance to affected families, supporters and friends both in the UK and abroad.

We will also be organising a series of film screenings, music, arts and other events in conjunction with other campaign and reform groups from home and abroad.

The website, our activities and our on-line services are managed by a small dedicated team of volunteers:

• Zana (Zinzi) Eka-Naphtali (Manchester)

• Larry Fedja (Milton Keynes)

• Alison Leslie (UK / St Lucia)

• Kushi Amlak-Sakhu (Bradford)

• Tippa Naphtali (Birmingham)

Keep Informed - Keep up the Struggle!

"...to remain silent and indifferent, is the greatest sin of all..."
(Elie Wiesel)

Updated 30 December 2009

All this information and more can be found at 4WardEver UK

4WardEver UK Campaign AIM Contribution

Besides raising awareness about the 4WardEver UK Campaign and the specific causes and cases they are involved with worldwide we will also attend various campaign events, perform poetry and music at these events, and get involved in frontline activism with them at rallies and protests. Our UK and US members will also be involved in particular with the struggle to abolish the death penalty worldwide, particularly in the US and under Sharia Law because these are areas our AIM activists are already deeply involved in. We hope to support this particular spotlight campaign on a long term basis because there will always be injustices within police, penal and mental health custody.
15 September 2010 - AIM blog - Inquest Press Release